About This Website
This is the personal website for, you guessed it, Carl Porter. I'm an IT developer based in Kent. The main aim of the site is to showcase key elements of my life. To allow you a glimpse at who I am and some of the things I do with my free time. Well, let's be honest, to show you the side of myself I want you to see!
If this is you're first time on the site, then have a browse around. I recommend you start with the My Creations section - arguably the most interesting part of this site.
If you came to this site for a particular reason, then you may be interested in these links:
About Me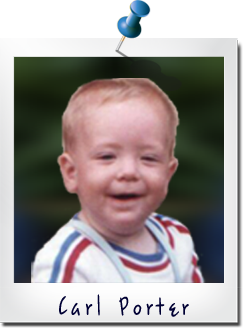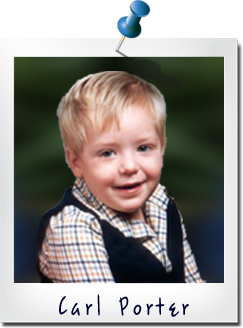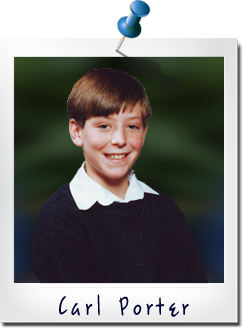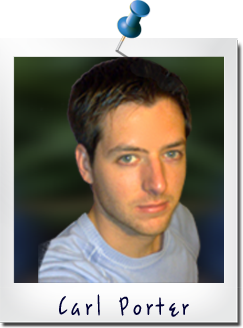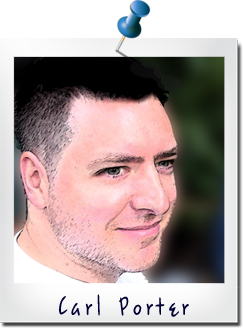 Education and Work
Education
Initially I didn't do very well in eduction. A lack of interest and focus at secondary school meant I left with rather poor GCSE results. At age 23 I went back into education (college) and discovered an interest in Information Technology. I then became extremely focused on perusing a career in computing. That led me to going to university – something that I never imagined doing.
In 2006 I attended the University of Kent studying a Bachelor of Science (BSc) degree in Information Technology with a Year in Industry. I graduated in 2010 with First Class Honours.
Work
I have done a wide variety of jobs over the years. Just some of those are: fruit picking; order picking/packing; retail; bar work; door work / security; refuse collection; archiving; fitter's mate; highway maintenance; peer tutor.
My first main career was in electrical installations, where I worked and trained as an electrician for two years. The work was OK but I did find it had become repetitive after about eighteen months. My main reason for leaving was because I didn't enjoy working in the construction field.
My first job in the IT section was my year in industry as part of my degree. I worked in the Software Solutions department at Kent Police.
Since graduating I have mainly just worked full time as an IT Applications Developer for a successful law firm in Kent. Although I did take time off to travel around the USA and around Thailand.
Some things I like
Comedy
I always enjoy watching a funny sitcom. Some of my favourites are: Scrubs; 3rd Rock From the Sun; Psych; Seinfeld; The Big Bang Theory; Friends; The King of Queens; That '70s Show; Roseanne; Modern Family.
Movies
I look forward to watching a blockbuster movie. Sci-fi and action are my favourite genres. Deadpool is a great example of one of my favourite movies. The Marvel movies are usually a pretty-good fit – particularly those in the Marvel Cinematic Universe franchise. But I own a collection of movies spanning various genres. In particular, Forrest Gump is probably my favourite movie - which is surprising as I don't tend to like watching very much in the drama, romance and war genres.
Music
I have a somewhat eclectic music collection. However, most of it does have an upbeat rhythm. With a general preference for those that fall into the dance / club music genre. Some of my all-time favourites I think are probably so because they remind me of my early clubbing days: Artful Dodger & Romina Johnson - Movin' Too Fast; DJ Luck - Little Bit of Luck; The 3 Jays - Feeling It Too; Armand Van Helden - You Don't Know Me. A random selection my eclectic collection includes: Madness - House of Fun; Arrested Development - People Everyday; Michael Jackson - Ghosts; Journey - Any Way You Want It; Oasis - Live Forever; Martha and the Vandellas - Heatwave; Diana King - Shy Guy; Pharrell Williams - Happy; Prince - Gold; Earth, Wind & Fire - September '99.
Technology
I like to stay current with various technological advances. I enjoy imagining how that technology will shape both the present and the future.
Writing
I enjoy writing short stories (and, more recently, screenplays). Largely this compliments my interest of thinking about a future that has been changed by technology. So the stories are mainly in the sci-fi genre. But I write what I feel like writing at the time – so it can be a mix of genres. I hope to one day get one of my stories/screenplays turned into a blockbuster movie.
Although I do enjoy doing the above (and other things), I actually spend a lot of my spare time working on different logical, creative and fun projects. These can range from different things to aid in my day-to-day life, to games created mainly just for fun. Some of those are listed in the My Creations section below.
My Creations
Playing Cards
This section contains a variety of zip files containing playing card decks.

A deck contains 56 cards: 1 introduction card (detailing copyright information, etc.), 2 designs for back cards, 1 joker and the standard 52 face cards.
A deck is available as a single image file and as 56 separate image files.
All cards are in PNG format.
Typically both standard and high quality (HQ) versions are supplied (but this could be restricted based on the source quality of the images used in the designs). HQ cards are a lot larger file sizes and are primarily designed for 4K monitor support.
A HTML document is supplied, which displays a variety of the cards and in various sizes(/scales). This is useful if you wish to use the deck as an image sprite on a webpage (as the positions have already been mapped for you).
If relevant, you will also find a 'Credits' text file, which will be used for any appropriate attributions.
In general, the playing cards are licensed under a Creative Commons Attribution 4.0 International license. However, some may be restricted based on copyright material they use (The Simpsons deck is an example of this).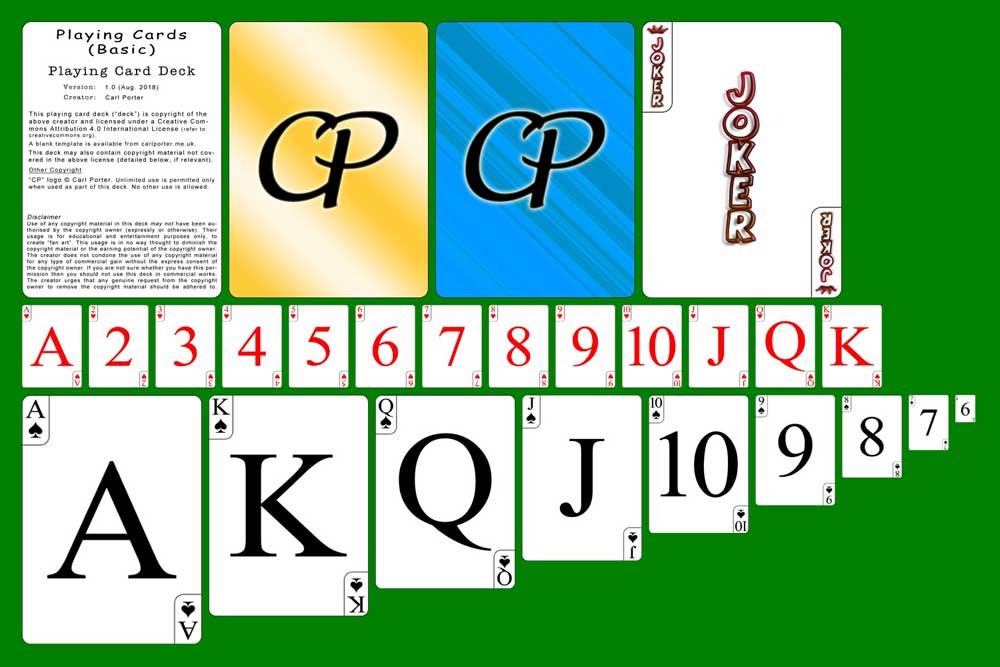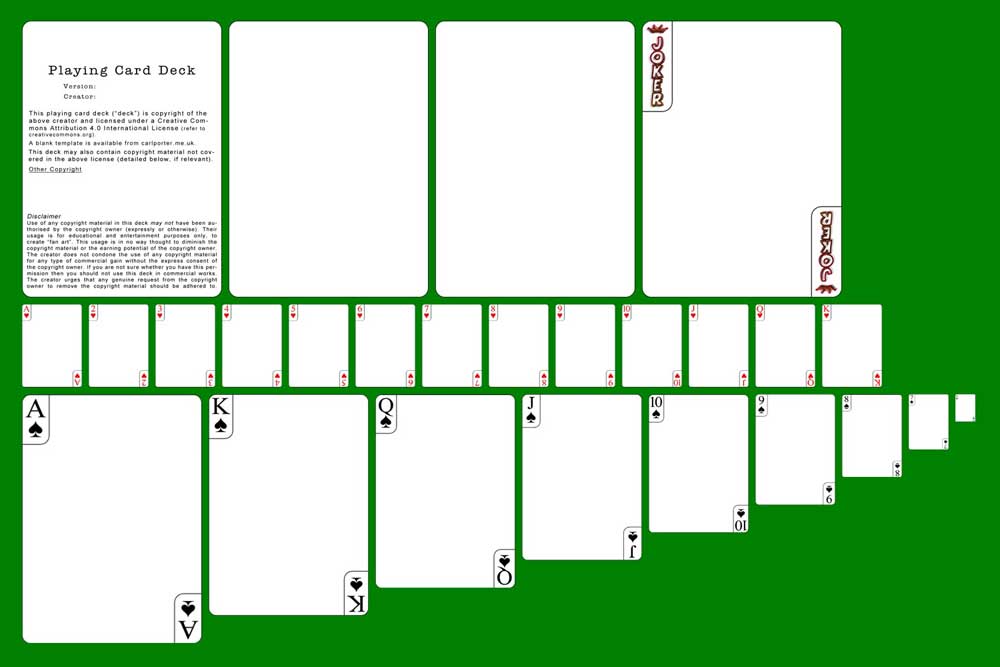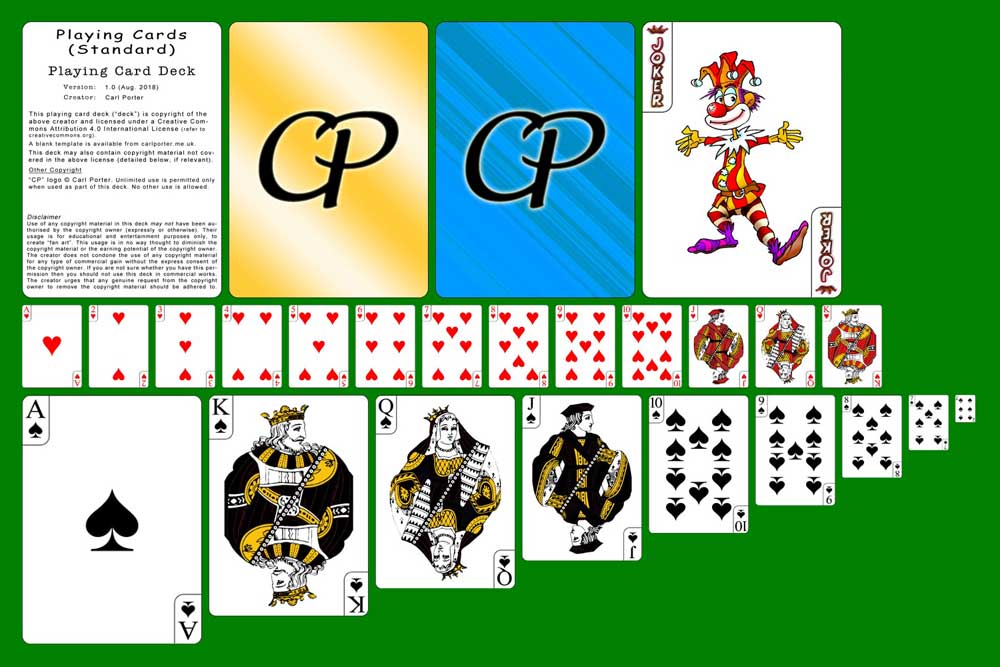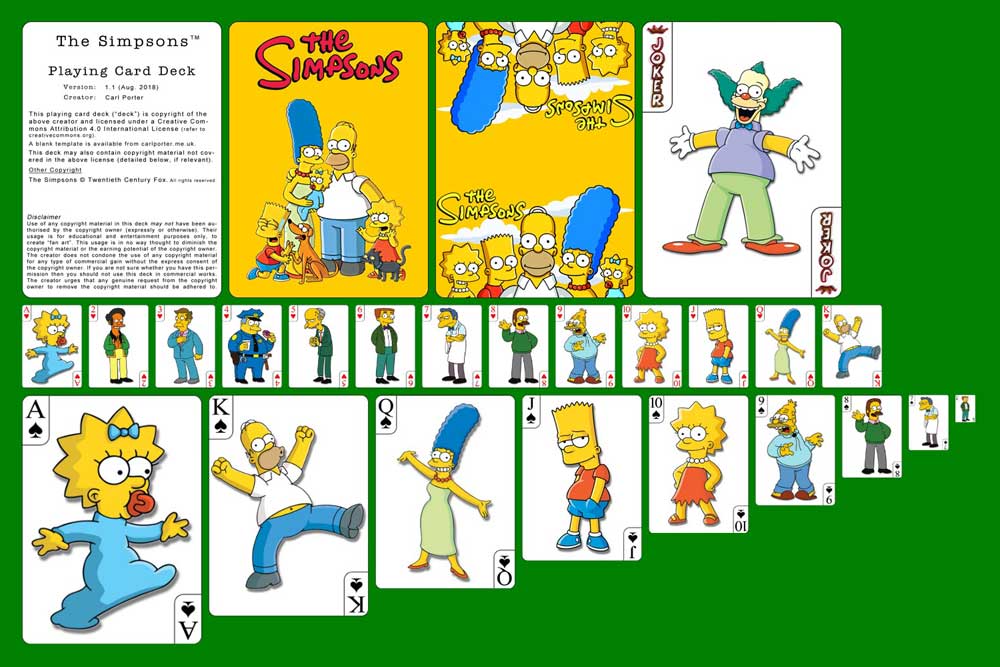 And more playing card decks will be created in the future.
The Hi-Lo+ Game
A 'higher or lower' type card game with a quiz element and bonus features, that also supports themes.
The Hi-Lo+ Game is an updated version of the classic higher-lower card game. It has optional quiz questions presented when a pair is drawn. At the end of a round there is the chance to gamble round points scored. It also has a bonus round – pick a box to reveal a bonus prize – if the user builds up the bonus bar (one bonus letter is lit every time 5-in-a-row is achieved in a round). It also has themes that change either/both the quiz questions and the card designs.
Themes for The Hi-Lo+ Game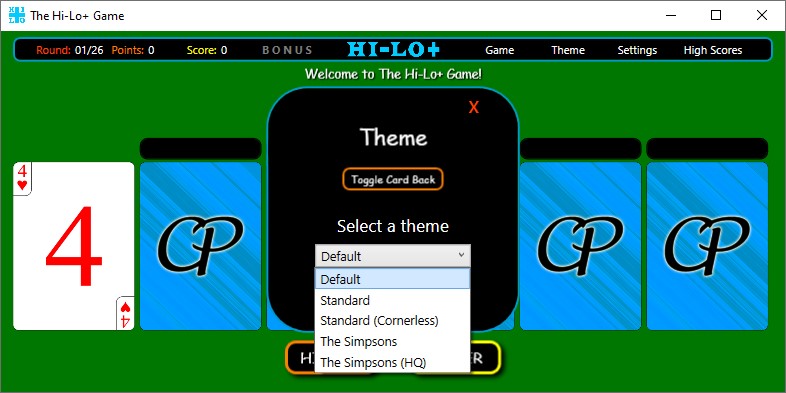 This section contains a variety of zip files containing themes for The Hi-Lo+ Game. Each theme contains a folder/directory which is named after the theme; and within that folder is one or both theme files:
Deck.png

The image file of the playing card deck.
Quiz.xml

The storage file containing the quiz questions.
If either of these files are not included in the theme then the default (built-in) version will be used instead.
Installation Directions

Simply unzip the contents into the 'Themes' folder in the game's directory.
Caution: make sure only the exact contents are extracted to the 'Themes' folder.
E.g. the structure for Deck.png in The Simpsons theme should be as follows:
\Themes\The Simpsons\Deck.png.
Windows will likely extract it as:
\Themes\Hi-Lo+.Theme.-.The.Simpsons\The Simpsons\Deck.png.
The above is wrong - it would result in a theme called 'Hi-Lo+.Theme.-.The.Simpsons' with no files found.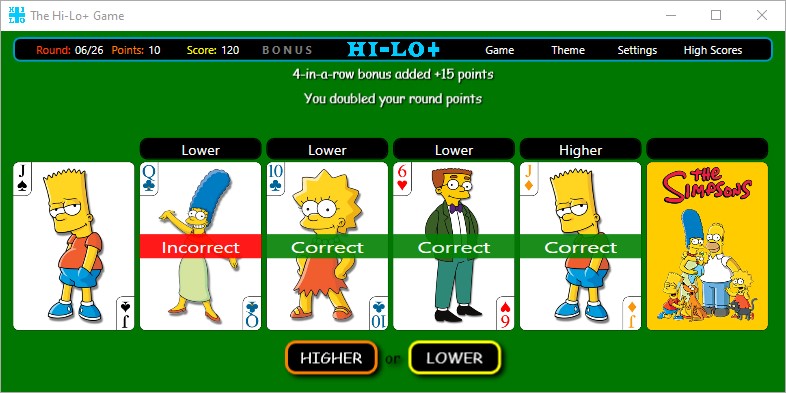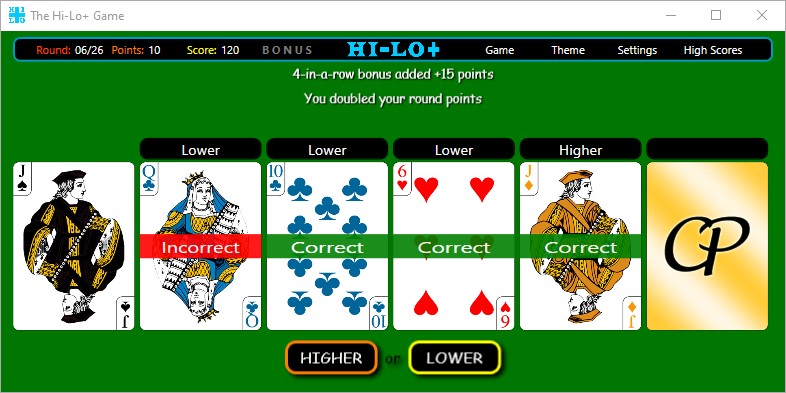 And more themes will be created in the future.
NB High Quality versions are recommended for 4K monitors.